Terressa is a childhood friend of Jenny. They see each other regularly and that night will be different. Terressa, a pretty 23 year old girl with light brown hair with green eyes, 1 m 73 and fairly small. Jenny 21, as pretty as Terressa, but she has brown eyes with brown eyes, of similar size and corpulence. We were in the autumn, and Terressa had invited Jenny to spend the evening at her house. It was 8 pm, and they start talking quietly, when Jenny's cell phone rings.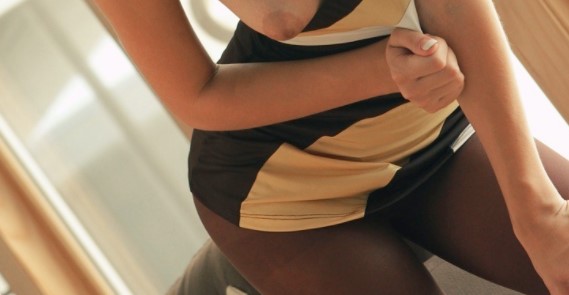 Hi Sonia, it's okay. "What I'm doing tonight, I'm at Terressa's, why?"
There's a nice evening near you. Wait, I ask Celine if she wants to go?
Why not, we had nothing planned.
Ok Sonia, we'll be downstairs at about 10pm. Kisses, at all.


Well I'm going to change, because I'm not going to go cross-legged. I have a half-length skirt split over evening, and up I'll put on a sweater, Celine replies. Accompany me, to choose my sweater.
If you want.

The two girls head for the room, starting by taking off her bodice.
Your black bra is very cute, and in addition the little lace is very pretty and naughty.
That's right, I like it too.

Then she uncovers the skirt of her tailor and falls on her ankles, and reveals a very nice black tights without demarcation. On the other hand Jenny calls Celine:


You do not wear panties under your pantyhose.
No, I always wear my tights on the skin. It is very comfortable and is expected to begin. The cotton gusset replaces the string or panties. You never tried?
No.
Want to try it now? I have a very large number of tights, and you could put one with a skirt for tonight.
I do not know, and then I'm afraid that people will notice that I do not wear panties.
You know if you do not say anything to anyone, no one will be. Look at this skirt panties, she would go very well with your top.
Okay, I'm trying, but if I do not feel right here, I'll put my things back.

Jenny sits on the bed and begins by removing her boots, then her pants. Terressa finds him a black tights slipé, the most opaque possible.


Holds that one, opaque, he would not allow to see his intimacy through. If you want there's the bathroom next door.
I go.
I like your panties in transparent tulle. But say, you shave!
One day, my boyfriend wanted me to shave, and since then I do it regularly. I have a very soft skin and I like it when I make myself small pleasures.

Jenny goes to the bathroom, then comes back sticky. Meanwhile, Celine fetches a pair of boots, and puts it on.


So, asks Celine?
It's weird, I feel naked.
In any case, it suits you well, and shapes your pretty little buttocks.
You also wear it well, and with** your boots**, it is very sexy.
So put yours too. Jenny also puts on her boots and the two girls find themselves very sexy in this outfit. Terressa invites Jenny to remove her little top.
How are you like beautiful girls, when do you think, Celine asks?
That is true. You know this is the first time I find myself in such an outfit.
Yes, but personally, I adore, and then I happen to caress me like that. The contact of the pantyhose under my hand always me things. Do like me, put your hands between your thighs, then go up slowly and pass one of your fingers on your sex, then continue to go up to the top of the pantyhose.
I do not know.
Wait, if you want, I'll do it for you. Celine is behind Jenny, and passes her arms around her and places her hands on her thighs. At the touch of Celine's hand, Jenny shuddered. Terressa slowly raises her hands, passes to the level of her sex and arrives at the top of the pantyhose. But Celine did not think she felt such a sensation by doing that to Jenny.
So, when do you think? What if you did the same thing to me? "I'm a little back, but I'm willing to try to do the same thing to you."

Jenny stands behind Terressa and positions her hands between her legs. Celine serves her legs to feel the hands of Jenny, who goes up her hands while passing closer to sex and arrives at the top of the panty. Then, Celine lays her hands on those of Jenny and continues to go up and arrive her breasts, without knowing why she did this.


Continue Jenny is so good.
So? Jenny kneaded her breasts through her bra.

After a few moments of this treatment, Terressa returns and does the same to Jenny. She lets herself do it and appreciates it. Celine feels a lot of sensation, she descends her right hand at the level of her belly at first, then her left hand. Jenny continues to caress her breasts. Celine's right hand passes under the rubber band and continues down to her intimate part. Fully flooded, Jenny spreads her legs to allow a better passage of the hand, which undertakes a going and come on her sex.

"Continue," Jenny whispered.
Your skin is soft as you said it. It's very sensual. Come on, we'll lie down on the bed.

The two girls lie down and Celine picks her up and goes, but through the soggy sticky. Face to face, their lips come closer and closer and finally kiss. Jenny, advances her hand at the level of Celine's crotch and also operates a back and forth.

"Faster Celine," Jenny asked. Yes, yes, yes, Jenny ended up with a violent orgasm.
Still Jenny, I feel that it comes.

Terressa explodes may soon after. The two girls lie on their backs side by side. Minutes later, Celine and Jenny resumed their spirits.


You know Jenny, this is the first time that happens to me. "Me too, but it was so good."
That is true. Come on, let's hurry, Sonia is waiting for us. Let's quickly pass by the bathroom, to make a small toilet.
Of course, I'm going.
I take two sticky and I join you. So, you tonight you go out without panties?
Go for the pantyhose without panties.

Terressa and Jenny get ready and go to join Sonia. They have renewed other experiences of this kind, but they never talked to their buddy.